The Band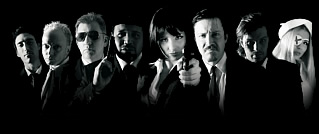 7 musicians from London form the Tarantinos. They take their inspiration from their obsessive fascination with 90's zeitgeist Quentin Tarantino.

They play all the best known hits from the cult movies Kill Bill, Reservoir Dogs, Pulp Fiction, Jackie Brown, Dusk Til Dawn and new Tarantino films Deathproof and Inglorious Basterds.

The band embody the style and attitude of the films and mix the music with movie sound bites, re-enactment of scenes, slick choreography and sharp costumes.

Its more than a band, its a show.........with ATTITUDE!!!!
Included are the Rock 'n' Roll/Surf classics Miserlou, Never Can Tell, Bang Bang, Woo Hoo, Green Hornet, Funk and Latin Rock flavoured Don't Let Me Be Misunderstood, Jungle Boogie, 110th Street, and the soul ballad Son Of A Preacher Man.
The Tarantinos have played successful tours of the UK and most parts of central and eastern Europe including extensive tours in Russia, Germany, Austria, Switzerland, Italy, Belgium Poland, Hungary, Czech and Slovak Republics and Denmark.
They have been a featured act on many festivals including Montreux Jazz Festival, Sziget Festival, St. Gallen Open Air, Gampel Open Air, T In The Park, Royal Open Air, and Fete de la Musique.
As support act, they have shared the stage with a wide variety of artists including Limp Bizkit, Van Morrison, Pulp, The Prodigy and were asked to be main support act for P!NK at her biggest ever show in Budapest, playing to over 300,000 people!!!